Using search engine optimization will help your website rank better. To drive more traffic to your webpage, investing in and developing an SEO-friendly website is always wise. If you are still trying to figure out where and how to start, connect with a renowned web design company that can guide you on creating an SEO-friendly website in a jiffy. In this blog, let us discuss the things to consider while making an SEO-friendly website.
Best Website Design Companies Focus on Responsive Design & Keyword. Why
Responsive design is one of the crucial components for a website's success. Integrate responsive design if you want your website to be SEO-friendly. The primary feature of a responsive design is to adapt to any user's device, be it a desktop, tablet, or mobile phone. As every device has a varying screen size, the website must be designed in a way that fits all the screens. If your website does not adapt to mobile devices, users will not get a positive experience while logging into it. If users stay on your website longer, Google will rank it high in the search result. Thus, a responsive design creates a comfortable web design that lets leads remain on your page for longer.
Content plays an integral part while creating websites. You must get help from the best website design companies to drive more traffic and engagement to your website. They use target keywords that drive more leads to the page. Website content creation starts with choosing the topic and then finalizing keywords. Ensure to pick keywords after extensive research to make your website appear widely in all search results. Long-tail keywords contain three or more words and bring out better results. As they are more specific, they drive valuable traffic.
Optimisation of Header tags & Meta Descriptions to Boost Clicks
Optimizing your header tags is an excellent place to start if you want to learn how to make your website SEO-friendly. Integrate your most crucial keywords into your headers to begin optimizing them. Your page's title should contain your most important keyword. Incorporating the primary keyword into the title will help Google recognize the context of your page and rank your page on top. You can integrate secondary keywords in smaller headings, such as H2s and H4s.
Headers are used to separate sections and make it simpler for your audience to understand what you're saying. It keeps readers from becoming overwhelmed by large amounts of text. You'll retain leads on your website longer if your pages are well-organized and simple to read. Therefore, make the heading structures for your pages simple for your leads to read if you want to establish an SEO-friendly website.
The page's title appears first when you search on Google. You may get a brief overview of the page in the short paragraph description that appears beneath the title, which is the meta description. You can read the meta description to find out what to anticipate. Make the most of this limited descriptive space to rank for keywords while giving your audience an insightful summary.
If the entire text has to be shown on google results, you will have to restrict the meta description to 150 characters. While it may take some time to craft the ideal descriptive meta description that adheres to the character limit, your extra effort will increase your website's traffic and clickthrough rate.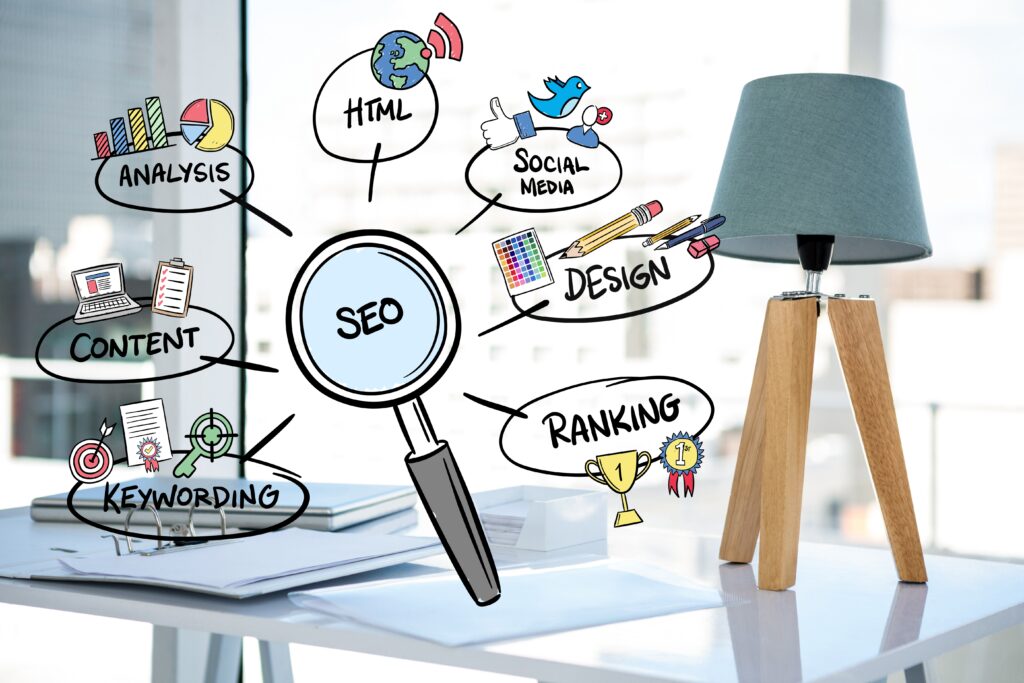 Improving Page Load Time & Using Internal Linking- All You Need to Know
Your website's SEO friendliness is significantly impacted by its load time. You run the risk of losing leads who visit your site if you don't have a website that loads quickly. Examine your website's photos when trying to decrease the time it takes for a page to load.
Although pictures complement any website, their enormous file sizes can make your site unresponsive. Compress image sizes to increase the speed at which your website loads. This will decrease their file size, speeding up your website's overall load time. Get help from a reputed web design company to improve your page's load time.
Internal linking aids in indexing new pages on your website with the help of search engines. Don't overlook internal linking, as it is crucial to make your website SEO-friendly. Therefore, help it identify these pages and index them in the search results using internal linking.
Use internal links wisely if you wish to use them on your website. To get your pages indexed, you shouldn't just randomly add links to them. The pages must be associated with the subject and anchor text used on the page. Use strong and pertinent anchor text for internal linking to experience good results. Your link's context must be briefly described in your anchor text. Together, the internal link and anchor text form a seamless route for Google to index that page. 
The Takeaway
You must build an SEO -friendly website to increase your business's online traffic. When your website is search engine friendly, you'll appear in more relevant search results and increase website traffic. You will need to invest time in preparing your SEO strategy because SEO takes time to implement and provide results. A professional website design company will assist if you don't have the time to devote to your SEO plan. Are you ready to refine your SEO tactics to reach more valuable leads? Keep going! All the best!